NEWS
Users claim PS Plus upgrades penalise those who used discounts and stacked subscriptions
Unconfirmed reports claim that upgrade options for Sony's new PlayStation Plus subscription service unfairly punish some players.
Following the Asian launch of the revamped PS Plus service on Monday, some claims have emerged from players who purchased existing memberships using a discount or chose to stack subscriptions before the option was disabled earlier this month.
Among the complaints being levelled at Sony, it's claimed that players who purchased their existing subscription using a discount are being charged extra to upgrade to a different PlayStation Plus tier, wiping out any previous saving.
VGC hasn't been able to verify if these claims are accurate, but we've asked Sony for more information and will update this story if we receive a response.
Introducing the all-new PlayStation Plus | PS5 & PS4 Games
Players who previously stacked PlayStation Plus memberships also claim that in order to upgrade to a new subscription tier, they're required to do so for the entire duration of their current plan, which in some cases run for years and require making a significant upfront payment.
The revamped PlayStation Plus service will launch in June in Japan, North America and Europe.
Seemingly confirming that users who want to upgrade must do so for the remainder of their current plan, PlayStation's UK site currently offers the following information on PS Plus upgrade options.
"When the new PlayStation Plus membership plans launch, you will be able to upgrade to a plan with more features and benefits.
"When you upgrade you will be charged a pro-rated fee to level up the remaining time on your existing membership to the desired level.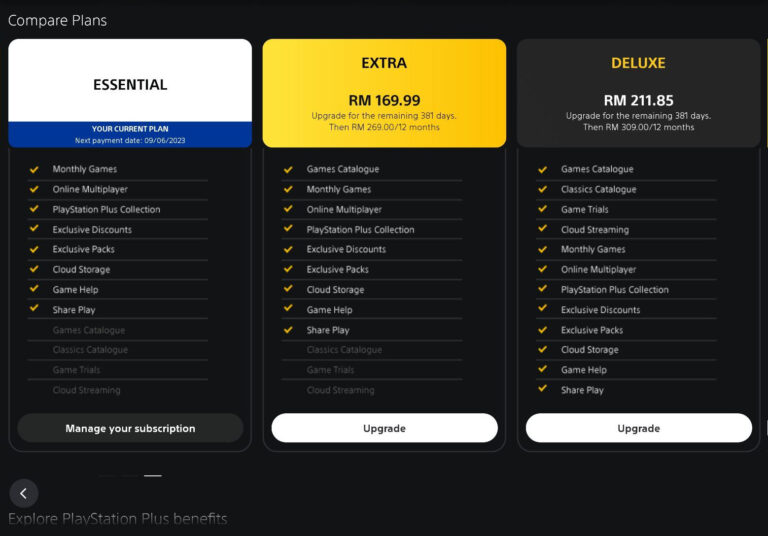 "For example, if you purchased a 12-month membership five months ago and have seven months left, you will need to pay a pro-rated upgrade fee to upgrade your remaining seven months to the desired plan level.
"Then on your next payment date, you will be charged for the standard price of the membership plan level that you upgraded to at your current payment frequency."
VGC has asked Sony if it will be possible for players with stacked annual subscriptions to upgrade to a higher tier for a shorter period of time, for example a year, with the option of then returning to the lower tier once that 12-month term expires.