PC
The best gaming monitors for 2022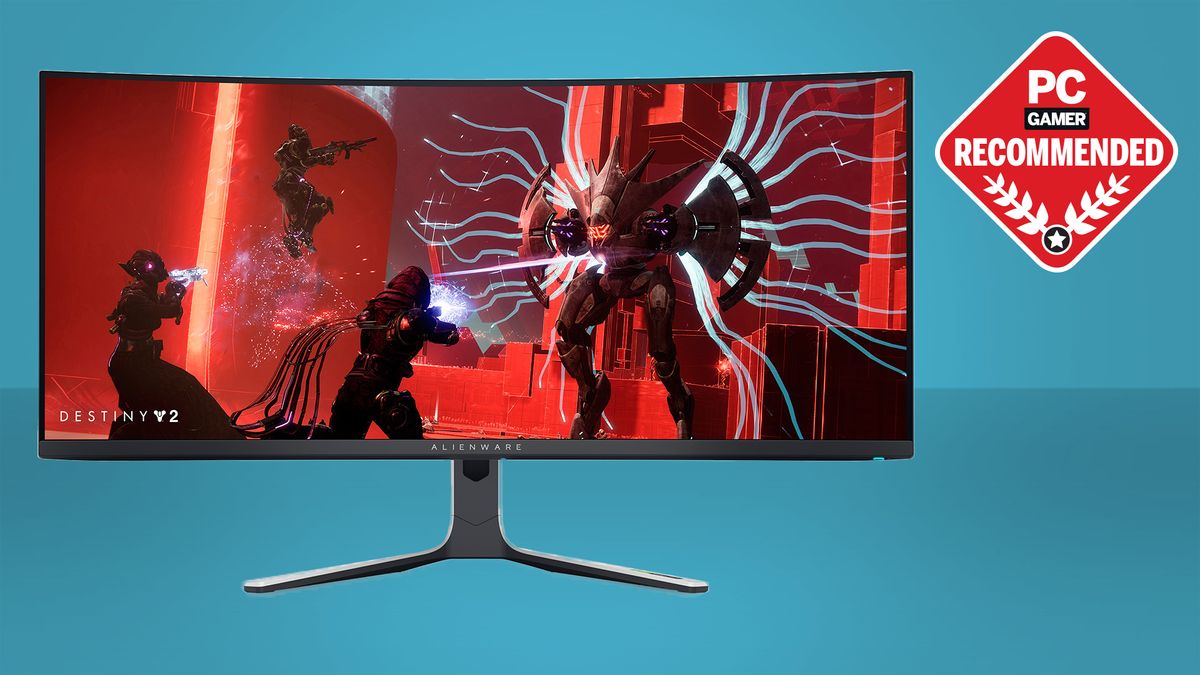 The best gaming monitor turns the ones and zeroes vomited out by your graphics card into beautiful worlds, frenetic shooters, the wildest of wests, and so much more. Just how beautiful and detailed those worlds are is down to what your graphics card can produce and how good your monitor is. The best monitors will make your gaming rig sing, with accurate colors, high resolutions, high refresh rates, low latencies, and a whole host of other features.
Getting your head around the GPU-monitor symbiosis is essential to make sure you don't waste your cash. Picking up a super expensive 4K monitor with a high refresh rate would be overkill if you're still packing a GTX 1060. The best displays need to best graphics cards (opens in new tab) to achieve their full glory. If you managed to score yourself a fancy Nvidia RTX 3080 Ti (opens in new tab) or one of those high-end AMD RX 6000 (opens in new tab) series GPUs, you've got plenty of options to choose from when it comes to gaming monitors. They'll give up decent framerates even on 4K panels.
If you're thinking of future-proofing your setup, why not go for a higher resolution? You can always use it at a lower res for now. And for the competitive gamer who values speed above all else, one of the high refresh rate monitors (opens in new tab) is where you want to look. 
We're constantly testing an exhaustive number of gaming monitors, to make sure we've found the best gaming monitors for each budget bracket and performance needs. This list frequently gets updated as newer models pass our rigorous testing.
Best gaming monitor
OLED has truly arrived on PC, and in ultrawide format no less. Alienware's 34 QD-OLED is one of very few gaming monitors to receive such a stellar score from us, and it's no surprise. Dell has nailed the OLED panel in this screen and it's absolutely gorgeous for PC gaming. Although this monitor isn't perfect, it is dramatically better than any LCD-based monitor by several gaming-critical metrics. And it's a genuine thrill to use.
What that 34-inch, 21:9 panel can deliver in either of its HDR modes—HDR 400 True Black or HDR Peak 1000—is nothing short of exceptional. The 3440 x 1440 native resolution image it produces across that gentle 1800R curve is punchy and vibrant. With 99.3% coverage of the demanding DCI-P3 color space and fully 1,000 nits brightness, it makes a good go, though that brightness level can only be achieved on a small portion of the panel.
Still, there's so much depth, saturation, and clarity to the in-game image thanks to that per-pixel lighting, but this OLED screen needs to be in HDR mode to do its thing. And that applies to SDR content, too. HDR Peak 1000 mode enables that maximum 1,000 nit performance in small areas of the panel but actually looks less vibrant and punchy most of the time.
HDR 400 True Black mode generally gives the best results, after you jump into the Windows Display Settings menu and crank the SDR brightness up, it looks much more zingy.
Burn-in is the great fear and that leads to a few quirks. For starters, you'll occasionally notice the entire image shifting by a pixel or two. The panel is actually overprovisioned with pixels by about 20 in both axes, providing plenty of leeway. It's a little like the overprovisioning of memory cells in an SSD and it allows Alienware to prevent static elements from "burning" into the display over time.
While we didn't sense any subjective issue with this 175Hz monitor, there's little doubt that if your gaming fun and success hinges on having the lowest possible latency, there are faster screens available. You can only achieve the full 175Hz with the single DisplayPort input, too. The Alienware 34 QD-OLED's response time is absurdly quick at 0.1ms, however, and it cruised through our monitor testing suite. You really notice that speed in-game, too. 
There's no HDMI 2.1 on this panel, however. So it's probably not the best fit for console gaming as a result. But this is PC Gamer, and if you're going to hook your PC up to a high-end gaming monitor, we recommend it be this one.
Read our full Alienware 34 AW3423DW review (opens in new tab).
4K gaming is a premium endeavor. You need a colossal amount of rendering power to hit decent frame rates at such a high resolution. But if you're rocking a top-shelf graphics card, like an RTX 3080 (opens in new tab) or RX 6800 XT (opens in new tab) then this dream can be a reality.
The LG UltraGear is the first 4K, Nano IPS, gaming monitor with 1ms response times, that'll properly show off your superpowered GPU. Coming in with Nvidia G-Sync and AMD's FreeSync adaptive refresh compatibility, this slick slim-bezel design even offers LG's Sphere Lighting 2.0 RGB visual theatrics.
And combined with the crazy-sharp detail that comes with the 4K pixel grid, that buttery smooth 144Hz is pretty special.
While it does suffer from a little characteristic IPS glow, it appears mostly at the screen extremities when you're spying darker game scenes. This isn't an issue most of the time, but the HDR is a little disappointing as, frankly, 16 edge-lit local dimming zones do not a true HDR panel make.
What is most impressive, however, is the Nano IPS tech that offers a wider color gamut and stellar viewing angles. And the color fidelity of the NanoIPS panel is outstanding.
LG's default calibration is virtually faultless, with impeccable detail in both black and white scales. Beyond the strict metrics, it's a seriously vibrant and punchy display in terms of image quality on the Windows desktop. 
This screen pops.
Hop in game and it's just as impressive. We'll never tire of the buttery smooth goodness that is 144Hz. But combined with the crazy-sharp detail that comes with the 4K pixel grid, well, it's pretty special.
The LG UltraGear 27GN950-B bags you a terrific panel with exquisite IPS image quality. Despite the lesser HDR capabilities, it also nets beautiful colors and contrast for your games too. G-Sync offers stable pictures and smoothness, and the speedy refresh rate and response times back this up too. 
And while the lack of HDMI 2.1 and USB Type-C are a little limiting, especially looking forward, right now it's one of the best monitors going.
Read our full LG 27GN950 review (opens in new tab).
The G27Q proves that you don't need to spend a fortune for a decent IPS 1440p display. At around $330, Gigabyte's 27-incher packs in plenty of sought-after features, but more importantly, it provides rich color and smooth gameplay. 
As a flat, 27-inch display with a design that wouldn't stand out in an office environment, it looks pretty pedestrian. But it's actually one of the best gaming monitors I've had the pleasure of using. Not only does it have a gorgeous, vibrant IPS panel, with 8-bit color with 92% DCI-P3 coverage, it's also HDR capable.
As someone who loves visual fidelity, I appreciate this resolution for clarity and performance. Even the humble GTX 1660 Super in my desktop is comfortably driving games at 60FPS at high settings. If you spend all your time playing CS:GO or Valorant, then the 144Hz refresh could hold you back a bit, but that 1ms response time sure helps.
The Gigabyte G27Q handles gaming with aplomb thanks to adaptive sync via AMD FreeSync Premium. It's also G-Sync Compatible so whether you are team Green or Red, the G27Q plays nice. I didn't have an AMD GPU to test but I did use an Nvidia-powered desktop and laptop. Neither had any problems running games with G-Sync enabled.
It's a bit of a plain Jane compared to other more pricey options, but it packs plenty of useful features designed to enhance your gaming pleasure. 
It gets eye-searingly bright thanks to its VESA Display HDR 400 Certification, but in gaming, sunny skies and other bright spots tend to blow out and lose definition at max brightness. Dark areas also sometimes get crushed.  
Movies and videos on Netflix and YouTube fair a lot better though. Sadly, my Xbox One X wouldn't recognize the G27Q as HDR-capable. But even the SDR mode on the G27Q is excellent, so I didn't miss much.
Connection-wise, you're looking at two HDMI 2.0 ports and a DisplayPort 1.2, along with a pair of USB 3.0 Type-A downstream ports and one USB 3.0 Type-B. Oh, and it also comes with a pair of 2W speakers integrated into the monitor.
The OSD on the G27Q opens you up to a ton of profiles and monitor settings. You navigate with the little joystick on the back and I love that you don't need to press the joystick to activate menu options. There's also the OSD Sidekick, a handy Windows app that gives you the same menu access but you navigate with your mouse instead of the joystick, which is neat.
Whether you use it for work or play, the G27Q excels with a sharp, vibrant, and smooth picture.
Read our full Gigabyte G27Q review (opens in new tab).
Much like the mystical ways of the Force, PC gaming is all about balance. There's little point weighting your system too heavily in one direction without paying attention to the whole package. Why bother pairing your RTX 3080 Ti with a 60Hz 1080p screen? Likewise, why spend big on a 4K monitor when you're only sporting a Radeon RX 6600?
The classic 27-inch Dell S2722DGM marries that screen real estate with a 2560 x 1440 native resolution, which gives you a great pixel pitch for fine detail. At 1440p it's also a decent resolution for getting high frame rates without the GPU demands of a 4K display. It's also capable of delivering that resolution at 165Hz, which is appreciated.
At 2ms GtG response, it's just a hair behind the 1ms and 0.5ms ratings of the best IPS panels, so you're covered when it comes to speed. That said, you can find quicker panels if you really want to chase speed. This VA panel does have a high contrast ratio, at least, given the technology's inherent strong contrast.
As for picture quality, the Dell S2722DGM is a reasonably punchy and vibrant monitor considering it's a pure SDR panel. The strong inherent contrast certainly helps with that, ensuring you don't feel short-changed running games like Cyberpunk 2077, which support HDR, in SDR mode.
We'd steer clear of MPRT mode, which hammers the panel's brightness and vibrancy. 'Extreme' mode, which is rated at 2ms, does suffer from a whiff of overshoot, but that's only just visible in-game, while 'Super fast' resolves the overshoot but allows just a little smearing of darker tones.
USB Type-C connectivity doesn't feature. But the dual HDMI and a single DisplayPort connections are just fine, even if the HDMI ports top out at 144Hz rather than 165Hz.
This Dell monitor is most importantly available at a great price. Dell delivers high-quality gaming panels, with all the features you need and a few extraneous ones to bump up the price. And that makes it one of the best gaming monitors for most PC gamers today.
Read our full Dell S2722DGM review (opens in new tab).
It may have once been a niche, but 240Hz gaming has become more widespread, and Alienware has set itself ahead of the pack with the gorgeous AW2521HF gaming monitor. While not the cheapest on the market, it has the style and performance to make you want it on your desk.
Here we have a G-Sync compatible FreeSync monitor that really makes for a smooth, stutter-free gaming experience on either Nvidia GeForce or AMD GPUs. Alongside that immense 240Hz refresh rate, the AW2521HF comes packing a lightning-fast 1ms gray-to-gray response time. In games like Valorant and Destiny 2, it chugs along with little to no ghosting or artifacts.
This ones viewing angles are a little iffy with certain colors, but otherwise, there's strong balanced color consistency. Rich, natural colors come out not too oversaturated in-game. The static contrast leaves a little to be desired, with blacks not the darkest of the lot, and there's a noticeable IPS bloom toward the bottom and left, depending on the viewing angle.
It's nice and bright, however, and if you work or game in a bright room, the Alienware 25 handles even the most obnoxious glares. More importantly, the AW252HF has some impressive viewing angles regardless if you have it set in the middle of your desk for gaming or off to the side as a second monitor in portrait mode while you work. 
Our only real complaints are the lack of HDR support, along with a lack of contrast, but it remains one of the best gaming monitors. 
We'd all love to have a thousand bucks burning a hole in our back pockets to blow on a new gaming monitor. But back in the real world, the Dell S3222DGM wants a crack at the kind of budget most of us actually have.
It's a 32-inch beast with a VA panel running at up to 165Hz and delivering 2,560 by 1,440 pixels. Yup, the tried and tested 1440p resolution, the sweet spot for real-world gaming according to many, the perfect balance between performance and visual detail. The catch is all that normally applies to 27-inch models. 32 inches? That makes for a pretty big panel for 1440p in terms of pixel density. 
To put an actual number on it, you're looking at just 93 pixels per inch.
Where the low pixel density hurts most is actually in Windows. If you like crisp fonts and lots of desktop real estate, this isn't the monitor for you. For everyone else, well, it comes down to the value proposition. There are faster monitors. There are monitors with superior IPS-powered image quality. There are monitors with all kinds of HDR support not found here. And others with far more pixels or more dramatic aspect ratios. 
This is a gaming-centric monitor without any HDR support but based on VA panel technology. So, the peak brightness is 350 nits, static contrast is about as good as it gets at 3,000:1, and there's official AMD FreeSync Premium certification.
Rounding out the basics is a gentle 1800R panel curve. It's a slightly odd, though not actually unique, feature for this class of display. Curvature is a more obvious and natural fit for ultrawide displays. On a conventional 16:9 panel? We still need a little convincing.
Dell quotes 8ms gray-to-gray in 'fast' mode, 4ms gray-to-gray in 'super fast', 2ms gray-to-gray in 'extreme', and finally, and somewhat confusingly, 1ms gray-to-gray in 'MPRT' mode. The 'MPRT' setting is, for us, a non-starter since it crushes brightness so comprehensively. 'Super fast' it is, then, and the result is good but not absolutely great response with no overshoot. Pretty much what you'd expect given the 4ms rating for 'super fast'.
But add in the 165Hz refresh and you have a pretty convincing monitor for response-critical online shooters. To be sure, if that is your number one priority, you'd be better off with a higher-refresh 1080p IPS monitor with faster response. If you want a larger panel like this, 4K isn't an all-around win. It comes with a huge additional GPU load and that in turn requires mega-investment levels in a good graphics card
It's worth remembering that pricing for this class of display—a 32-inch 165Hz 1440p panel—extends all the way up to $800 in the Corsair Xeneon 32QHD165 (opens in new tab). So, while the Dell S3222DGM isn't all that exciting from a technical point of view, for the money, it's pretty convincing.
Read our full Dell S3222DGM review (opens in new tab).
The Pixio PX277 Prime is about as barebones as it comes in regards to gaming monitors. Designed with a sci-fi theme in mind, the base is sharp-looking, and a lot of thought certainly went into the thing's build quality. The thin bezel is always a plus in our book, too.
Here, this 27-inch panel provides frames at a stable 165Hz refresh rate, not the speediest but certainly workable for competitive gaming. The 1ms grey-to-grey response time doesn't hurt for gaming either. As a FreeSync certified monitor, AMD users can be sure of a tear-free gaming experience.
At 1440p you get a good pixel density for the size of the monitor, and the image is pretty sharp to boot. The screen itself is advertised as anti-glare and we're seen that it holds its own in most brightly lit environments, though doesn't do so well in dim spaces.
The Pixio's contrast sits at 1000:1, which isn't the greatest, we admit, but the colors can be tuned to create a punchy and accurate image with a bit of fiddling. It would have been nice to see this out of the box, however.
The biggest selling point of the PX277 Prime, though, is its low price point. A great entry-level option for those looking for a larger screen with a high refresh rate and don't want to be left totally broke. 
While the build quality isn't as robust as a higher-spec screen, the Pixio panel is perfect for the budget gamer who doesn't mind missing out on some of the bells and whistles of a higher-end monitor but is keen on top performance.
Best computer speakers (opens in new tab) | Best gaming headset (opens in new tab) | Best gaming laptop (opens in new tab) | Best wireless gaming headset (opens in new tab) | Best PC controller (opens in new tab) | Best capture card (opens in new tab)
The M28U ticks all the boxes for both the PC gamer and the Xbox Series X or PlayStation 5 owner looking for an affordable 4K resolution gaming solution. It features a stunning 28-inch IPS panel, which delivers excellent picture quality and depth of color. However, its 28-inch screen size is a touch smaller than I'd usually recommend to get the most out of the 4K resolution.
You'll want some scaling enabled in Windows or your operating system of choice to get the most out of it, but it's still a superb size for pixel density and detail to shine through without overpowering the desktop—next to my 32-inch monitor it feels far less imposing.
The big sell for gamers will be the 144Hz (120Hz on console) refresh rate and 2ms MPRT response time. That's certainly quick enough for our tastes, and to look good while delivering that speed is a huge deal.
This monitor is also rated to DisplayHDR 400, though its brightness is the fairly standard 300 cd/m2. I wouldn't consider its HDR capabilities a big deal either way, and I definitely wouldn't recommend you pick up this monitor specifically for its HDR capabilities.
As for the design, we found the monitor stand to be a little cheap.
It's sturdy but limited in its movement to just height and tilt adjustments. It's also a little bit cheap-looking, and the underside relies on pads that are glued on for grip to the desk. On my review sample, these pads have already started to peel away with the small adjustments I've made over time and may end up having to be replaced just to keep the screen steady.
This is where Gigabyte may have cut corners to make the M28U as inexpensive as it is, however. But features like the inclusion of an HDMI 2.1 port mean it's quite multi-faceted for its price. Gigabyte has made no major sacrifice to tick all the checkboxes with the M28U, and although it's still quite a lot of money to throw down on a monitor alone, other 4K monitors with this sort of feature set are usually found at a much higher price point.
Read our full Gigabyte M28U review (opens in new tab).
If your mantra for displays is 'go big or go home,' Acer hears you, and its Predator X38 is a massive 38-inch curved screen that looks stunning. It features a not-quite-4K QHD ultrawide panel with a 3840×1600 resolution. With an aspect ratio of 24:9, the IPS panel looks great, and the size means you have a lot of screen real estate for gaming.
This 37.5-inch display is expansive. It simply isn't possible to take it all in without moving your head slightly. That means immersion, of the maximum variety. The skinny little bezels are just 2mm wide and blend into invisibility in use.
It's curved a little, with a relatively relaxed 2300R bend, and comes with a sturdy, pre-fitted big metal stand—one that tilts back a full 35 degrees, exposing its display and power ports underneath for effortless, no-fumble plugging in.
The display also features G-Sync technology with up to 175Hz variable refresh rates. That's a huge boost over lower refresh rate curved gaming monitors, and Acer has overcome the big IPS downside of typically high response times, too. This beast has a 1ms GtG response, which is truly IPS coming of age and doing it all without the compromises of old.
With its DisplayHDR 400 certification, it's good enough to deliver what you want in HDR effects, but it's not dazzling like the HDR 1000 screens you can now buy, like the Asus PG43UQ.
Banding was pretty much non-existent and the backlighting was even, though with a faintly noticeable glow coming from the edges in dark scenes, but nothing to be troubled about and not noticeable at all while gaming.
Pushing the overclock to 175Hz yielded a perfect result with no ghosting visible. Small details like text were rock solid, too, with no shimmering. At such a huge resolution your graphics card will obviously be taxed in many games, and for me while testing this I generally left it at 144Hz, though for several days I used it on 175Hz for everything – including boring work, and it was rock solid and crisp all the time.
It's a big, bold, and beautiful-looking display. If you're looking for something to turn heads, this is one of the best widescreen gaming monitors out there. 
It's taller than the 27-inch 16:9 displays and nearly half again as wide, but the higher resolution means the dot pitch is slightly lower than, the lesser panels. And for games that properly support ultrawide resolutions, the surround effect of the XR382CQK is incredibly immersive—sitting at your desk, the 38-inch panel will fill your field of view.
Read our full Acer Predator X38 review (opens in new tab).
The best just got a whole lot better. That's surely a foregone conclusion for the new Samsung Odyssey Neo G9. After all, the original Odyssey G9 was already Samsung's tip-top gaming monitor. Now it's been given the one upgrade it really needed. Yup, the Neo G9 is packing a mini-LED backlight.
Out of the box, it looks identical to the old G9. Deep inside, however, the original G9's single most obvious shortcoming has been addressed. And then some. The Neo G9 still has a fantastic VA panel. But its new backlight is what counts here—it offers far more than just edge-lit dimming.
It packs a cutting-edge mini-LED tech with no fewer than 2,048 zones. This thing is several orders of magnitude more sophisticated than before. As if that wasn't enough, the Neo G9's peak brightness has doubled to a retina-wrecking 2,000 nits. What a beast.
The problem with any backlight-based rather than per-pixel local dimming technology is that compromises have to be made. Put another way, an algorithm has to decide how bright any given zone should be based on the image data. The results are never going to be perfect.
Visible halos around small, bright objects are the sort of issue you expect from full-array dimming. But the Neo G9 has its own, surprisingly crude, backlight-induced image quality issues. Admittedly, they're most visible on the Windows desktop rather than in-game or watching video. 
If you position a bright white window next to an all-black window, the adjacent edge of the former visibly dims. Or let's say you move a small, bright object over a dark background. The same thing happens. The small, bright object dims. Even uglier, if something like a bright dialogue box pops up across the divide between light and dark elements, the result is a gradient of brightness across the box.
All this applies to both SDR and HDR modes and, on the Windows desktop, it's all rather messy and distracting. Sure, this monitor isn't designed for serious content creation or office work. But at this price point, it's surely a serious flaw.
Still, that 1000R curve, huge 49-inch proportions, and relatively high resolution combine to deliver an experience that few, if any, screens can match. Graphics-heavy titles such as Cyberpunk 2077 or Witcher III are what the G9 does best. In that context, the Samsung Odyssey Neo G9 delivers arguably the best visual experience on the PC today.
In practice, the Neo G9's mini-LED creates as many problems as it solves. We also can't help but observe that, at this price point, you have so many options. The most obvious alternative, perhaps, is a large-format 120Hz OLED TV with HDMI 2.1 connectivity. 
Read our full Samsung Odyssey Neo G9 review (opens in new tab).
If you're a fan of flat-out overkill, the ROG Swift PG259QN is here to impress. This ludicrously fast 360Hz display even lets you analyze your gaming ecosystem to figure out which one of your devices affects your latency, thanks to Nvidia Reflex (opens in new tab) (if you're using an RTX card). Seeing if your hardware or accessories gives you terrible input lag is good information and will keep you from making frivolous upgrades.
Sure, it's not the highest screen resolution, but this is a monitor very much geared for speed over fidelity. With a 1ms grey-to-grey response time, we found it really didn't let us down when it came to gaming.
It's made the cut on the best gaming monitor guide because it's a competitive gamer's dream. Anyone looking for a competitive edge and values speed over anything else will be overjoyed with this swift gaming monitor.
Blur is basically non-existent, colors are exceptional and the 1,265:1 contrast ratio is better than plenty of IPS screens around today. The dynamic contrast feature gives you a picture that's bright and sharp, and devoid of clipping detail, or color that feels muted.
If you already own a 240Hz monitor, you're probably ok with what you have, but once you see this monitor in action, that's a different story. Just make sure you've got a beefy enough GPU that's capable of spitting out a high number of frames. 
Portable monitors have always existed as a novelty. Whenever you see one out in the wild, it's usually attached to someone's boring work laptop and tasked with displaying mind-numbing spreadsheets. Portable monitors give you a second screen during travel without the fuss. The ROG Strix XG17AHPE takes that same portability but also adds the performance of a premium gaming monitor.
This thin and lightweight 17-inch IPS display has a 240Hz refresh rate, along with a 3ms response time, making it the perfect gaming monitor for a LAN party. Shooters like CS: GO, and Apex Legends will benefit from the buttery smooth refresh rate, and you needn't sacrifice battery life for it. The built-in 7800mAh battery will give you a couple of hours of gameplay, at least. 
The XG17 comes with a built-in 7800mAh battery, which lasted close to three hours non-gaming and a little under two hours when I played the final act of Resident Evil 3 Remake (opens in new tab) on my balcony. The monitor supports quick charge 3.0, so an hour of charge got me back to around 60 percent, which is pretty damned speedy. If you have a power bank, you can squeeze out some more game time in case you're stuck at the airport or a BBQ. For the most part, I kept the display plugged in and charging. 
Outside of gaming, I found the XG17 extra useful standing when plugged into my MacBook Pro in portrait mode for working at the dining room table. Here, I can efficiently work in a doc and monitor Twitter or Slack for breaking news. For me, two screens are crucial to getting anything done, as with most people working from home right now. The two USB-C and micro-HDM ports mean that you can also plug-in other devices, from phones to a Nintendo Switch.
The foldable smart case, which acts as both a cover and a stand for the XG17, is a tad unwieldy. You need to be wary of a wobbly table as the smallest knock will have it falling back flat, which is very annoying if you happen to be in the middle of the match of Mortal Kombat 11 or a flowing Twitter rant. 
The XG17 offers an excellent second-screen experience that travels easily without compromising color or speed. Though the $500 price point will be a significant barrier for most people considering that you can buy a 27 inch 240Hz for around $400. 
This portable monitor is really for those gamers with travel-heavy schedules and who need a high-performance display that you don't have to check-in. But we'll admit, that's a hell of a niche audience to target.
Read our full ROG Strix XG17AHPE Portable Monitor review (opens in new tab).
Best gaming monitor FAQ
Should I go for an IPS, TN or VA panel?
We would always recommend an IPS panel over TN (opens in new tab). The clarity of image, viewing angle, and color reproduction are far superior to the cheaper technology, but you'll often find a faster TN for cheaper. The other alternative, less expensive than IPS and better than TN, is VA tech. The colors aren't quite so hot, but the contrast performance is impressive.
Should I go for a FreeSync or G-Sync monitor?
In general, FreeSync monitors will be cheaper. It used to be the case that they would only work in combination with an AMD GPU. The same went for G-Sync monitors and Nvidia GPUs. Nowadays, though, it is possible to find G-Sync compatible FreeSync monitors (opens in new tab) if you're intent on spending less.
Should I buy a HDR monitor?
With a High Dynamic Range monitor, you can take advantage of the ever-growing list of games and apps that feature HDR support. It offers more vibrant colors and greater contrast but is going to drive up the price a little. Windows' native HDR function also leaves a lot to be desired, and you may find you have to fiddle in the settings to get HDR looking like it should.
What aspect ratio should I go for?
Today's movies and games are best enjoyed in a widescreen format at a 16:9 aspect ratio or above. In 4:3, those cinematic moments will look stunted with black strips along the top and bottom. There are a host of minute variations on each ratio, but at the end of the day choosing between these depends entirely on your personal preference. 
And the very far-out option, if you have a little extra cash to blow, is ultra-wide aspect ratios like 21:9 and 32:9 and their variants. These will provide a much more immersive, encompassing experience. Or literally, encompass yourself with a curved monitor, up to you. 
Jargon buster – gaming monitor terminology
Refresh Rate (Hz)
The speed at which the screen refreshes. For example, 144Hz means the display refreshes 144 times a second. The higher the number, the smoother the screen will appear when you play games. 
V-Sync
Graphics tech synchronizes a game's framerate with your monitor's refresh rate to help prevent screen tearing by syncing your GPU frame rate to the display's maximum refresh rate. Turn V-Sync on in your games for a smoother experience, but you'll lose information, so turn it off for fast-paced shooters (and live with the tearing). Useful if you have an older model display that can't keep up with a new GPU.
G-Sync
Nvidia's frame synching tech that works with Nvidia GPUs. It basically allows the monitor to sync up with the GPU. It does by showing a new frame as soon as the GPU has one ready.
FreeSync
AMD's take on frame synching uses a similar technique as G-Sync, with the biggest difference being that it uses DisplayPort's Adaptive-Sync technology which doesn't cost monitor manufacturers anything.
Ghosting
When movement on your display leaves behind a trail of pixels when watching a movie or playing a game, this is often a result of a monitor having slow response times. 
Response Time
The amount of time it takes a pixel to transition to a new color and back. Often referenced as G2G or Grey-to-Grey. Slow response times can lead to ghosting. A suitable range for a gaming monitor is between 1-4 milliseconds.
TN Panels
Twisted-nematic is the most common (and cheapest) gaming panel. TN panels tend to have poorer viewing angles and color reproduction but have higher refresh rates and response times. 
IPS
In-plane switching, panels offer the best contrast and color despite having weaker blacks. IPS panels tend to be more expensive and have higher response times. 
VA
Vertical Alignment panels provide good viewing angles and have better contrast than even IPS but are still slower than TN panels. They are often a compromise between a TN and IPS panel. 
HDR
High Dynamic Range. HDR provides a wider color range than normal SDR panels and offers increased brightness. The result is more vivid colors, deeper blacks, and a brighter picture. 
Peak Brightness
This refers to the maximum brightness of a monitor or television and is measured in nits.
Ultrawide
Shorthand for monitors with aspect wider aspect ratios like 32:9 or 21:9
Resolution
The number of pixels that make up a monitor's display, measured by height and width. For example: 1920 x 1080 (aka 1080p), 2560 x 1440 (2K), and 3840 x 2160 (4K).